The Studio
Toybox is a unique recording studio based in a Georgian town house in central Bristol, with an array of professional facilities and a great atmosphere.
Although the maze of rooms and thick stone walls make an ideal environment for recording loud music, we also have a range of different acoustic spaces to cater for almost all styles of music production.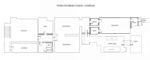 Our facility is designed to utilize the very best of analogue and digital recording equipment, and allows us to achieve quality, as well as speed and ease of use.

The leafy square outside the studio's front door is a handy place to take a break. Inexpensive accommodation and all local amenities are less than 5 minutes walk away. The studio is located at the edge of the city center, close to the M32 motorway which joins Bristol to the M4, and 2 minutes walk from the new Cabot Circus shopping centre.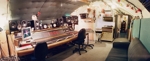 Our control room is based around a rare 1970's, British built Trident TSM series analogue recording console. The desk is linked to tie lines in our 6 different recording rooms, as well as our analogue multitrack, our Pro-Tools HD/ Logic audio rig, and our offboard processors. The room is also big enough to accommodate the band comfortably as well as producer and engineer. There is also ample space for musicians to perform in the control room.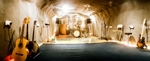 Our large dead room has been purpose built for complete isolation from the control room and adjacent areas, it is partially floored with solid Maple wood, for a rich, bright drum sound. It is surrounded with 4 isolation booths, which come off the main room allowing for performers or amplifier (or both) to record separate from the main space, whilst still having line of sight into the room. The third booth also has line of sight into Stone Room A.

The larger of the two stone rooms has a lively, bright and airy acoustic. With its arched stone ceiling and open adjoining lobby's, it is ideally suited to recording huge bombastic Bonham-esque drum sounds, but also has thick red curtains for a more locked down sound. There is ample space to fit numerous musicians around the drum kit, and allow them to track live, whilst their amplifiers are isolated in adjacent booths.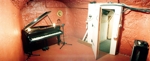 Our smaller 'cave' stone room has been designed for and open, bright and reflective sound. It houses a Challen baby grand piano, and is an excellent reverb chamber too.
Our office has high speed Broadband, WiFi, TV and we have an inhouse techinican to deal with guitar repairs and set ups.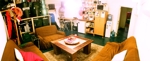 We also have a big sofas/kitchen/playstation/DVD/internet/Tea coffee kinda area too…
History
Toybox was originally built by the members of Bristol band Actual Size, who still play an active role in the studio to this day. Things have come a long way since they spent weekends nailing used carpet to the walls and drying out wet sand on radiators to try and make sound proof walls (although, look closely and you might spot the sand leaking out of corners here and there).
Using record deal money, Actual Size turned what was a glorified rehearsal room into a fully functioning studio, expanding and improving the space. When Actual Size disbanded in 2003, they decided to open the studio as commercial venture with Ali stepping up to act as boss and in-house engineer. The studio quickly made a name for itself, thanks to the unique space and sound of the rooms, and fast became the place to record for up and coming local bands.
Ali soon sought help from friend and fellow musician Stef Hambrook, who started using the studio as a freelancer, and then quickly became a co-partner.
It wasn't long before word got out and Toybox started to attract more established artists & producers such as John Parish, who is now also part of the gang.