People
Ali Chant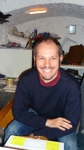 Ali started off playing guitar in indie bands in his early teens; mixing a love of movies and music he went on to study Film, and specialised in sound production. After graduating he spent 2 years working in film and television doing sound and music production. In 2001, his band 'Actual Size' were signed by Gut records and he moved into music full time. During this period Ali and the band used money from their record deal to set up their own recording studio in Bristol, which would eventually become Toybox Studios.
Inspired by the music producers that Actual Size worked with, Ali began taking a serious interest in recording and production techniques. He has since worked with Flood, Jim Abbiss, Mark Ronson, John Parish, Ben Hillier, John Cornfield, Hugh Padgham Michael H Brauer and Tim Friese-Greene. Around this time Ali also played lead guitar for cult Bristol band Madnomad, as well as running up an experimental 24hour album project.
In 2003, Ali began engineering and producing full time and Toybox started to become a popular local recording studio. He also started playing guitar for Bristol indie band Termites and went on to record 2 EP's for Universal Music as well as extensive touring over the following 3 years.
Ali has also played guitar in afro/indie outfit Drinks, and bass and keyboards in Mississippi Witch.
He also, occasionally moonlights on drums, keyboards, percussion and backing vocals.
Selected Discography
2013- Gruff Rhys- 'Forthcoming Album' – Prod/Eng/Mix
2013- KT Tunstall- 'Invisible Empire' album – Eng/Mix
2013- Euros Childs- 'Forthcoming Album' – Prod/Eng/Mix
2013- Maggie Bjorklund- forthcoming album- Eng/Mix
2013- H. Hawkline – 'Ghoules E.P.'- Prod/Eng/Mix
2012- Jenny Hval- 'Forthcoming' – Eng/Mix
2012- H. Hawkline – 'Black Domino Box E.P.' Prod/Eng/Mix
2012- Rokia Traore – 'Beautiful Africa' – Eng/Mix
2012- Yann Tiersen – 'Forthcoming' – Mixer
2012- Giant Sand – 'Giant Giant Sand' – Mixer
2012- C.W. Stoneking – 'Tracks' – Eng
2012- Euros Childs – 'Summer Special' – Eng/Mix
2011- Gruff Rhys – 'Atheist Xmas EP' – Prod/Eng/Mix
2011- Willy Moon – Forthcoming- Island – Add Prod/Musician
2011- Perfume Genius- 'Put Your Back N 2 It'- Matador-Eng/Co-Prod/Musician
2010- M. Ward – 'Wasteland Companion' 2 tracks- Bella Union-Engineer/Mixer
2011- Minotaur Shock- Forthcoming album – Melodic- Engineer/Mixer
2011- Seasick Steve- 'Best of'- Engineer/Mixer
2011- Neil Davidge (Massive Attack) – Forthcoming Tracks- Mixer/Engineer.
2011- Gravenhurst- 'The Ghost In Daylight' – Warp
2011- Peggy Sue – 'Acrobats' album – Witchita- Eng/Mix
2010- She & Him – 'Oh Boy" – Engineer/Mixer.
2010- Cercueil – 'Erostrate' – Le Son du Maquis- Producer.
2010- Seasick Steve – Live at Brixton Academy – Atlantic – Engineer/Mixer.
2010- Adam & Joe's Song Wars Volume 2 – Dreamboat- Mastering.
2010- Rozi Plain – Forthcoming Album – Fence Records-Producer/Engineer.
2010- This is the Kit – 'Wriggle out the Restless' Dreamboat Engineer.
2009- Howe Gelb – 'A Band of Gypsies' album Pias Engineer/Mixer.
2008- PJ Harvey & John Parish 'A Woman A Man Walked By' album – Island- Engineer.
2008- Giant Sand & Mark Lanegan- 'unreleased tracks'- Engineer/Mixer.
2008- Kool Keith- 'tracks'- Yeti Beats – Engineer.
2008- Kid Carpet-'Casio Royale' album – Sunday Best Records- Co-Producer.
2008- The Heavy – 'The House That Dirt Built' – Ninja Tunes- Engineer
2007- PJ Harvey-'White Chalk' album track- Island Records – Engineer.
2007- Mark Ronson & Daniel Merriweather 'Chainsaw' single- Mix Engineer.
2007- Portishead – 'Live'- All Tomorrows Parties- Engineer.
2007- Tom Brosseau- 'Cavalier' album– Fat Cat Records – Engineer.
2006- Magicrays- 'Off the Map' album- Gentleman Records Switzerland- Engineer.
2006- Rosqo- 'No Stone Left Unturned' album- Gentleman Records.– Producer.
2005- The Kills & Dionysos- 'Old Child' single- Universal – Engineer.
2005- Gravenhurst- 'Fires in Distant Buildings' album–Warp Records- co-Producer.
2005- Future of the Left- Tracks- Too Pure Records– Engineer.
2005- Shooting at Unarmed Men- 'Debut Album' – Too Pure- Producer.
2005- Kid Carpet- 'Ideas and Oh Dears' album- Tired & Lonesome – co-Producer.
2005- Mississippi Witch- 'Black Gamble' album- Universal- Producer, musician
2005- John Parish- 'Once Upon A Little Time' album- Thrill Jockey. Engineer.
2005- Fatboy Slim- 'The Joker' Kid Carpet remix- Skint Records,-Mixer.
2005- Scout Nibblet & Howe Gelb – 'Tracks' – Engineer, musician.
2004- The Dirty –'album tracks'- Brown Punk Records- Producer.
2003- Big Joan- 'Insects & Engines' album– Blood Red Sounds, Producer.
2002- Actual Size- Weights & Measures EP- Gut Records Co-production, musician.
Film & TV Work
2011- '8 Minutes Idle'- Feature Film – Music Supervisor/Mixer
2011- 'Aardman Tate Movie Project'- Music Supervisor/Mixer (
BAFTA

Award Winner 2011)
2010- 'Collaborator'- Feature Film- music engineer/mixer
2009- 'She, a Chinese' Feature film- music engineer/mixer/editor
2009- 'All Tomorrow's Parties' Film- music engineer/mixer
2008- 'The Frome,' – Short film- Composer (runner up prize at Wildscreen festival)
2008- 'Nowhere Man'- Feature film- music mixer/ editor.
2006- 'Waltz'- TV series- music mixer/editor.
2005- 'Tea Break' – Short film – Sound designer/mixer
2004- 'Pool Shark' Short film – Sound designer/mixer
2000- 'Aardman' – Various TV series and commercials – sound editor/mixer
1999- 'Chicken Run' – Aardman, Foley editor
1999- 'Millenium Dome/Ovo' – sound effects editor for Pete Gabriel
1997- 'Human Traffic' – feature film, sound recordist

Influences
Producers – Steve Albini, Dave Fridmann, John Parish, Brian Eno, Tony Viscontti, Flood, Ben Hillier, Glyn Johns

Music
The Cure, Sonic Youth, David Bowie, The Flaming Lips, Liars, Pixies, Johnny Cash, Slayer, PJ Harvey, Wilco, Vampire Weekend, Tom Waits, The Police, Soundgarden, Led Zeppelin, Magazine, Deerhoof, Lambchop, Bernard Herrmann, Ween, Angelo Badalamenti, Aphex Twin, Giant Sand, Mike Patton, Tim Buckley, Beefheart, Sinatra, Nina Nastasia, G Love and Special Sauce, Helmet,

Film/ TV
David Lynch, The Wire, Mike Leigh, Charlie Brooker, Control, Jim Jarmusch, Wong Kar Wai, Dario Argento, Chris Morris, Bill Hicks.
Stef Hambrook

When I moved to Bristol in 2000 I played drums in a band called Butcher and sang with Naked Voices. Prior to this I studied music at Salford on the UKs first pop music and recording degree, getting valuable experience with multi track tape before everything went digital. Balancing the timbres of different instruments according to the dynamics of music is a skill common to both drumming and recording. My approach to music production draws on my experience as a musician as much as the use of buttons and dials.
I'm currently performing as a drummer with live film soundtrackers, Minima and songwriter Jonny Velon. I'm also recording brush-and-beater drums online via my website (see above).
Here are some things that interest me to do with music production…
The way music has it's own fundamental roots in human physiology.
Music is primarily a real-time participatory medium if you measure by the length of time we've had the technology to record it's tone in detail. We can so accurately record it now, it's easy to forget what it rests on. The best music communicates to the next person via a common pool of physiology. The best productions work on the fact that the texture of sound can make the hair on the back of your neck stand on end and your guts go goey. A piece of recorded music is about what we feel as much as the musical elements themselves or what they represent culturally.
Selected production and performance work
2013 Live Performances with Minima
2012 Paul Butler forthcoming Album – Drums/Engineer/Mix
2012 I Am Horse Album "Then Let Me Go" – Engineer/Mix
2012 Gabriel Kain and the Ables Sessions – Engineer
2012 Lunarians Album "Lost Light Receiver" – Engineer/Mix
2011 Midges forthcoming Album – Engineer/Mix
2010 Pepino Album "Pepino" – Engineer/Mix
2010 Work on live project "Volander" with John Lemke
2010 New Root – Debut Album "Talk Is Ending" – Engineer
2009 Master Chaynjis- Album Recording Sessions and percussion gigs
2009 Katey Brooks Album 'Proof of Life' – Production/Drums
2009 "Capsule" Improvisation Project – Drums/Facilitator
2008 The Heavy Album "The House that Dirt Built" – Engineer
2008 Minima, soundtrack to 'The Seashell and the Clergyman'- Engineer
2008 PJ Harvey & John Parish 'A Woman A Man Walked By' Assistant
2008 Daisy Chapman 'And There Shall Be None' EP- Engineer
2007 Portishead 'Live' unreleased- All Tomorrows Parties- Engineer
2007 Malakai 'Warriors' from the Album 'Ugly Side of Love' Engineer/drummer
2007 Youthmovies various live tracks from All Tomorrows Parties- Mix Engineer
2006 Rose Kemp 'A Handful of Hurricanes', One Little Indian- Engineer assisting Charlie Francis
2006 Drummer with Damo Suzuki's Network at Clwb Ifor Bach, Cardiff
2006 Rosqo 'No Stone Left Unturned'- Assistant Engineer, drum sounds
2005 Babel 'The Golden Acre EP' People Tree Records – Engineer
2004 The Dirty 'Album Tracks' Assistant Engineer, drum sounds
2003 Drums for Madnomad, various live sessions
2002 Big Joan 'Tiger' and 'Vostok'- Assistant Engineer
2002 Actual Size sessions Engineer assisting Hugh Padgam
96 Drummer for 'Lower'
PWL


92 Drummer for 'Who By Fire' album "Roadmovie" produced by Stephen Harris
90-93 Degree in Pop Music and Recording at Salford.
Crew & Alumni
Stevie Hawker
Steve operates a guitar repair workshop called Hawker Repairs. He also plays drums if you ask nicely.
You can call him on 07811 240887.
For more information go to Drumbank Music and check out Hawker Repairs Guitar Workshop.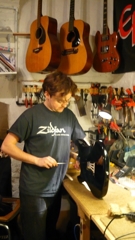 Ben Baldwin (Dreamboat Records)
Ben runs indie label Dreamboat Records who are now based out of the studio. He's been putting out some very cool music of late, and makes a fine pot of coffee to boot.
Check out www.dreamboatrecords.co.uk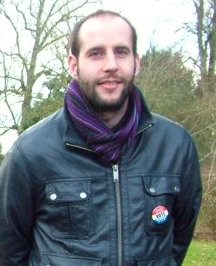 John Parish
He's done quite a lot of music over the years…you've probably heard of some of it. He has a website of his own just here
He's pretty impressive in the drums/ percussion department, and also know's how to rock the Jazzmaster and AC30 like a demon.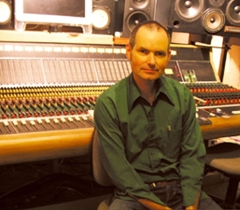 Norris (Mr Christopher)
Studio Assistant 2008-2009
Norris was our Studio Assistant of 08-09 . A man with with lots of technical know how and a love of Number 5 Strength Coffee. He has starting working on some pretty exciting projects and is now doing live sound out on the road with the dazzling, Zun Zun Equi.
Kid Carpet
He's one of the old school, original member of Actual Size. helped put this gin joint together. Now doing his own dope cuts.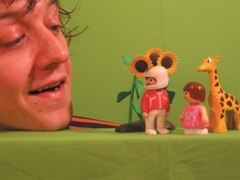 Ben Hostler
Benji was drumster in Actual Size and also a founder of Toybox. He is now creative director at Beef a creative agency he set up with some mates – and funnily enough they built this site. He still bangs the drums when he's asked to and has most recently played for The Cedar, Jane Taylor, Greg Edwards and I Am The Mighty Jungulator.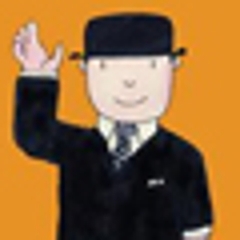 Jonny Evans
Jonny helped build this place, he was a founder member of Actual Size, and plays some mean keyboards, currently playing with the fantastic Emily Breeze. He's also a wiz with a Workmate and a Black and Decker. He is often bedraggled and occasionally bespectacled.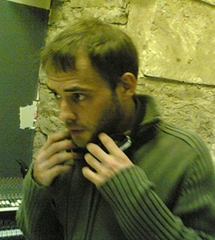 Guy "Moses" Fowler
Guy was also in Actual Size…he can now be found showboating around town as MR.. Bass-for-Hire!
He plays in the John E Vistic Experience
and Jungulates among other things..www.iamthemightyjungulator.com/